My middle child has always been ridiculously active..even before he was born! Nothing has changed in the eleven years he has been running around, fighting with sticks (or logs!) in the woods, climbing trees, climbing walls, climbing rocks..in fact, anything he can get a purchase on! (He is the one hanging upside down on the Outdoor Woodland Learning School facebook banner photo!)
I was once told by a teacher that the then DHT in his primary school had found Middle Child at the top of a tree…15m high.
My husband took our three children shopping while on a long weekend from school. For one reason or another Middle Child hadn't done any exercise for two days. Husband came back saying he would never do this again…Middle Child had been climbing the walls…literally…both inside the shops and outside the shops. He had been climbing on lamp posts, he had climbed over our van and back in through the windows, he had even tried climbing up his Dad!
When he went for his dyslexia assessment, and yes, he is dyslexic as well, the first thing the internationally renowned educational psychologist said was that he was showing definite signs of ADHD…but Middle Child is reasonably successful in school.  His teachers have no issues with his concentration. When he does lose his focus, he can refocus himself.  He isn't disruptive, he is quiet and polite….and I am very lucky to have such a great child.  
But I don't believe it is purely luck.  We are an active family.  We run, we hike, we orienteer, we climb, in fact we spend a lot of time outside doing physical activities.  I have realised more and more that we are helping Middle Child to regulate his own ADHD symptoms by exercising him in the way you need to exercise a spaniel puppy!  Everyday we ensure he does something.  Recently he took up Sooyang Do a martial art.  He loves it.  The focus has been incredibly good for him and the exercise is fantastic.
The scientific evidence is now showing that exercise affects areas of the brain needed for self regulation.   Exercise can, in the case of ADHD and depression, compliment medication or even remove the need for it entirely as in the case of Middle Child.  John Ratey, American psychiatrist has written a book called 'Spark' showing the benefits and links of exercise and brain function, more specifically, ADHD.
http://www.additudemag.com/adhd/article/3142.html
http://www.additudemag.com/adhd/article/3280-2.html
The American journal 'Paediatrics' published a scientific report by Hillman et all on the effects of exercise and brain function.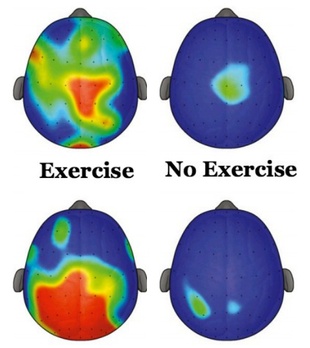 Electrophysiological plots representing brain processing
capacity and mental workload (
P3 amplitude
) during
cognitive tasks that require executive control in children
in the experiment and control groups. Red represents
the greatest amplitude, and blue the lowest.
(Hillman et al,
Pediatrics
/
The Atlantic
)
 http://www.theatlantic.com/health/archive/2014/09/exercise-seems-to-be-beneficial-to-children/380844/
I wonder if we allowed and encouraged kids to exercise more, if some of the discipline and concentration issues we face in schools would diminish? It doesn't need to be huge amounts of time, just a few minutes when you see a child losing concentration, some star-jumps, a run twice round the playground as fast as you can, a bit of jogging on the spot in the classroom, a bit of brain gym at the beginning of the day…
We can all fit in a few minutes and if it benefits the children's health and wellbeing, reduces class disruption and enables greater concentration, to not include it would be tantamount to rejecting the requirement to improve learning and teaching and thereby raise attainment.